There are few things more frustrating than looking forward to jumping in your beautiful pool, only to have to stop and skim dirt or curious bugs off the surface with your pool net. Wouldn't it be great if you could keep it all out in the first place?
Your pool pump is great at sifting light debris and circulating the water, and the new pool cleaners do a pretty remarkable job at keeping your pool sparkling clean, but they're no match for a large oak or pine tree that drops leaves in fall – or the wandering neighborhood teenager who jumps your fence for a swim while you're at work.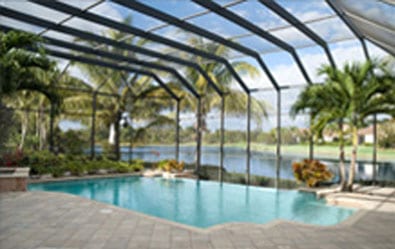 Protect your pool and add more living space to your home with a screen enclosure from Cody Pools. Our screens are built strong, sustaining winds of up to 130 mph, in accordance with the new Dade County hurricane requirements. We offer three custom roof styles at no additional charge and have super screen and pet screens available. Screen frames come in your choice of either bronze or white to match the feel of your backyard and home.
Our screen rooms only take around one day to build so you could be spending more time relaxing in your pool instead of working around it, sooner than you think– contact Cody Pools today for a free estimate!
Address:
6846 N Dale Mabry
Tampa, FL 33614
Directions to our Tampa office
Phone: 813.454.0552 • Fax: 813.884.1829
Hours of Operation: Monday – Friday 8-5 • Saturday 9-4 • Sunday Closed