Solar pool covers can be one of the most useful tools that a pool owner can have at their fingertips. They help save time, money and energy.
If you have owned a pool cover for some time or you are new to this subject, I am sure the information we are proving below can at least teach you something new and useful about solar pool covers.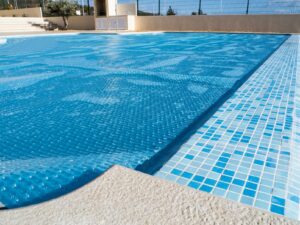 What IS a solar pool cover?
Did you know that 75% of heat loss in your pool water is due to evaporation? Imagine having a cover on your pool and then making it solar…Oh yeah, now we are talking! The covers trap heat and reduce evaporation. It also helps keep out debris, leaves and such.
Solar pool covers or also known as solar blankets, is made up of a thin, lightweight sheet made from a special plastic that is UV resistant. The covers are typically double sided, with a smooth side and a 'bubble wrap' side.
How DOES a solar cover work? 
Most days in Florida are filled with a lot of sunshine that give your pool water natural solar heat. With that sunshine however, can also come rain in the bling of an eye. Either way, it doesn't provide enough heat for a steady, comfortable swim year-round.
A common purchase to fix this is a pool heat pump — they're a reliable source for on demand heat. However, even with the best pool heater, evaporation is still a major problem.
But….if you use a solar pool cover, the story ends differently. The solar pool cover creates a barrier between the water's surface and the air. This keeping it in and making it warm. Without the cover you water easily evaporates while also burning away chemicals and heat, along with your pocketbook.
How to use a solar pool cover
Using a solar pool cover is a very easy and simple process. The most important thing you can ensure is correctly placing the cover on the pool. The best way to make this happen is to do a few simple adjustments. If you are using a brand-new cover out of the package it may need some customizing. Typically, they won't fit your pool perfectly. So, simply grab a pair of scissors and shape the cover to fit snug around the surface of the water and it's edging. Be sure to lay the 'bubble-wrap' side down, facing the water. This ensures the cover with indeed, float.
Your pool cover should span the length and width of your water and your water only. To be clear, you don't want any extra cover draped onto any of the ledges, as this greatly reduces the cover's effectiveness and allows for evaporation.
That's it! Now you can place and remove the cover as needed with no other custom needs. 
When to use a solar pool cover
Basically, the best time to use a solar pool cover is anytime you're not swimming. This will help maintain your water level and keep your pool water to a nice heated swimming temperature. Especially during the nighttime when temperatures are most likely to drop.
Benefits of using a solar pool cover
A few simple but HUGE benefits to using a solar pool cover are:
Smaller water bill – using your solar pool cover will reduce the amount of natural water evaporation, which means you don't need to add water to your pool as often.

Less chemical use – because of the reduced evaporation this also leads to less chemical evaporation, so you don't need to add chemicals as often.

Less pool maintenance: Solar pool covers help keep out debris such as leaves, branches and animals, so you won't have to clean up as often.

Last but actually the best part, you can swim year-round in warm, comfortable, clean water!